Crimp Technology

Crimp Quality Monitor II (CQM II)
Crimp height measurement is the best non-destructive way to ensure meeting the stringent mechanical and electrical properties of the crimp. The new CQM II features easy-to-use, intuitive menus along with enhanced monitoring and graphing. In addition, the CQM II can now be used on non-TE Terminators. The CQM II has more choices to observe and monitor the crimping process than ever before.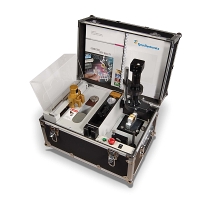 Mobile Laboratory for crimp cross-sections
This compact laboratory can be used to create cross-sections "on the fly"
For personal assistance locate a Country Contact.
Crimp Connections Brochure